Want to level your professions from 1-600 and farm for mats? The Honorbuddy wow bot supports gathering, farming, and leveling of tradeskills through two plugins, Professionbuddy and Gatherbuddy2.
WoW Bot Gathering Features
Level Mining and Herbalism 1-600
Navigate entire zones
Ground Mount Support
Flying Mount Support
Fights and loots mobs (optional)
Automatic Selling, Repairing, and Mailing
Can deposit to guild bank
Auctions items at AH
Trains skills if necessary
Supports Vashj'ir underwater zone
Honorbuddy Gathering Plugins
Professionbuddy
This free plugin by plugin developer Highvoltz lets you level your gathering professions, or any tradeskill from 1-600. With included 1-600 profiles for Herbalism and Mining, you can simply load these up and let Honorbuddy go to work, navigating through zones searching for ore and herbs to gather. The Professionbuddy plugin takes automation to the next level though, automatically purchasing a mining pick if necessary, and training your professions when necessary. Professionbuddy will automatically transition between zones when needed, and when it reaches a full inventory, will sell off your herbs and ore on the auction house at market value. Professionbuddy works with ground mounts as well as flying mouonts.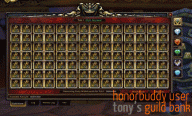 Gatherbuddy2
The ultimate farming and gold generation tool for world of warcraft, gatherbuddy2 is a flying mount only, leveling and farming gathering plugin. This plugin can traverse whole zones, gathering ore and herbs, then depositing them to your guild bank, or mailing them to an alt. As a plugin for Honorbuddy as opposed to a standalone wow bot, it can make use of Honorbuddy's stellar combat system, repairing and selling features, and host of plugins that let it reply to whispers, auction off items, and hunt rare mobs.

Both of these plugins are included with Honorbuddy.